What's small, hard and makes women scream "YES!"?
Ok, we lied. Men scream "YES!" too.
And we know what you're thinking…
BIGGER IS ALWAYS BETTER!
But it's not really about size.
It's about the person attached to it and the lengths they go to please you.
That's right!
Engagement rings (what did you think we were talking about?) are not only a symbol of one's love and commitment. The ring they choose says a lot about just how much they 'get' you.
Which is why, if you're looking for an engagement ring for someone with unusual (dark) taste, you need a ring that shows that you see into the depths of their black soul and love every part of their strange being.
A 'normal' ring you can find at your local jewellers just WON'T DO.
Think about it, would you be happy if your lover proposed to you with a plain old diamond anyone could buy? That looked just like everyone else's?
No. You wouldn't.
You'd think "I thought you were my soulmate! I thought you and I understood each other's taste for the dark and macabre! I even love you when you have morning breath because you haven't yet brushed your teeth with your black toothpaste! Why are you disrespecting me by offering me this boring, normal person ring that you should know does not reflect my gloomy personality whatsoever? And is now going to clash with all of my all black outfits!"
You would know right then and there, they were not THE ONE.
'The One' would have gone to more trouble to find you something rare. Something strange. Something the neighbours wouldn't like. Something to match all of your black outfits. Something that shows the world just how perfect you are for each other.
'The One' would have bought a BLACK engagement ring.
Nicolas Cage knew this when he recently bought his new fiancé (who only wears black) a black diamond engagement ring with a matching black gold band. Someone should to tell him that he doesn't have to marry every person he dates… But it worked for him regardless!
He knew a standard, jewellery store ring wouldn't cut it.
He did good.
But where do you find these black beauties?
Not at your local jewellers, we've already established that!
That's why we've curated our very own Black engagement ring collection for you to choose from!
We've hunted high and low, peered into every dark crevice of the internet, to bring you the best black engagement rings on the market, all in one place.
Saving you time, and making sure you get your "YES!".
Affordable rings, luxury rings, dainty little gemstone encrusted rings, giant solitaire stones atop gold and platinum bands, bridal ring sets, and of course: BLACK-ON-BLACK RINGS!
Here's our top 3 black engagement rings to get you in the mood:
This one-of-a-kind 18.65ct Black Diamond And Platinum Engagement Ring should be enough to sweep your chosen one of their spooky little feet.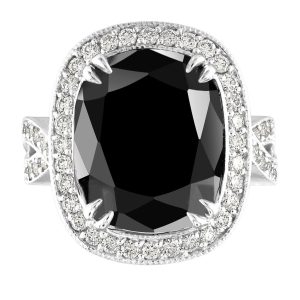 Art Deco style, featuring a bold 17.28ct Cushion Cut black diamond, surrounded by no less than 110 shimmering 1.37ct white diamonds set in a platinum band. Who could say no to that?
Well, ok, if you need something a little more quirky…
How about this 5ct Raw Black Diamond Engagement Ring.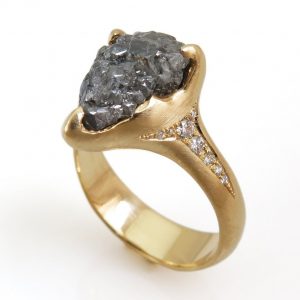 Handmade to order, with a choice of 18k yellow gold, white gold, or rose gold band, featuring subtle white diamond detail either side of the solitaire stone. Every ring is 100% unique with a natural, rustic finish. Gives off a slightly Medieval vibe in our opinion. You certainly won't find a ring more original than this!
But when in doubt: GO ALL BLACK!
Our #1 favourite find is this 4.35ct Princess Cut Bridal Set.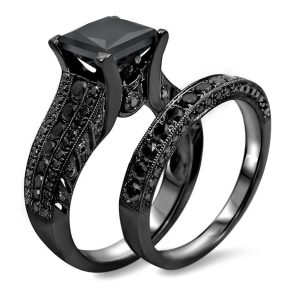 A delicate Princess Cut, solitaire black diamond set atop lots of intricate little black 1.90ct diamonds that adorn the14k black gold band. Accompanied by a matching black gold ring, encrusted with more black diamonds. That's two all black rings for the price of one! Need we explain why this is our favourite?
Classic, elegant, but with a dark twist. Perfect for a Gothic Princess and romantic Gothic Fairytale wedding.
Still not sure? Need more options?
Check out our full collection of Black Engagement Rings.
And if you're looking for something more vampy – skulls, bats, roses, etc. – take a look at our Gothic Engagement Rings collection, for black diamond rings with an added pinch of creepy!
Want more black wedding inspo?
Click Here for our hand-picked selection of black wedding dresses.